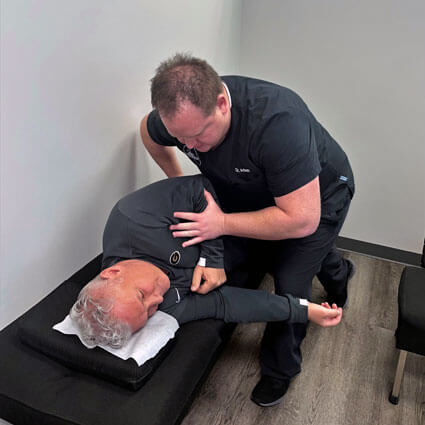 Chiropractic Care
When Dr. Adam discusses chiropractic care with a patient, one thing he stresses is how safe and completely holistic it is. Misalignments may happen in the spine and press down on a nerve, which may cause several symptoms.
At Greer Chiropractic & Rehabilitation, our focus is on finding the root cause of the misalignment. Once the problem is corrected, the pressure on the nerve is removed, and pain is relieved, allowing the body to heal itself.
New Patients

Here to Help You
Whatever your issue may be, we'll take the time to talk with you to get an in-depth picture of the problem. We'll explain everything—what chiropractic is, what to expect, and how we may help you.
We see patients of all ages, and from all different walks of life, so we don't focus on any particular issue. Patients may come in with various complaints, such as back pain, headaches, prenatal or pediatric issues, sport injuries and more.
We're here to help you feel better, function better, and keep you better for the long term.
Tools and Techniques
Gonstead Technique is a hands-on method of adjustment. Very precise, it's the primary technique used at our clinic. Our approach is to be precise about everything we do—the diagnosis, location of the problem, and what needs to be adjusted.
Using our X-ray findings, we know exactly what area is involved. Since 2012, Dr. Adam has gotten the best results for his patients, in the fastest time, with Gonstead. After receiving over 20 years of Gonstead adjustments himself, he knows it works.
In some cases, patients may need additional therapy or be unable to tolerate Gonstead. Dr. Adam will use Diversified Technique, Thompson Drop, Flexion Distraction or Activator® to get results.
Several adjunct services may be added to the care plan to achieve the best outcome. These include spinal decompression, electric muscle stimulation, and active rehabilitation.
---
Chiropractic Care | (412) 914-8965